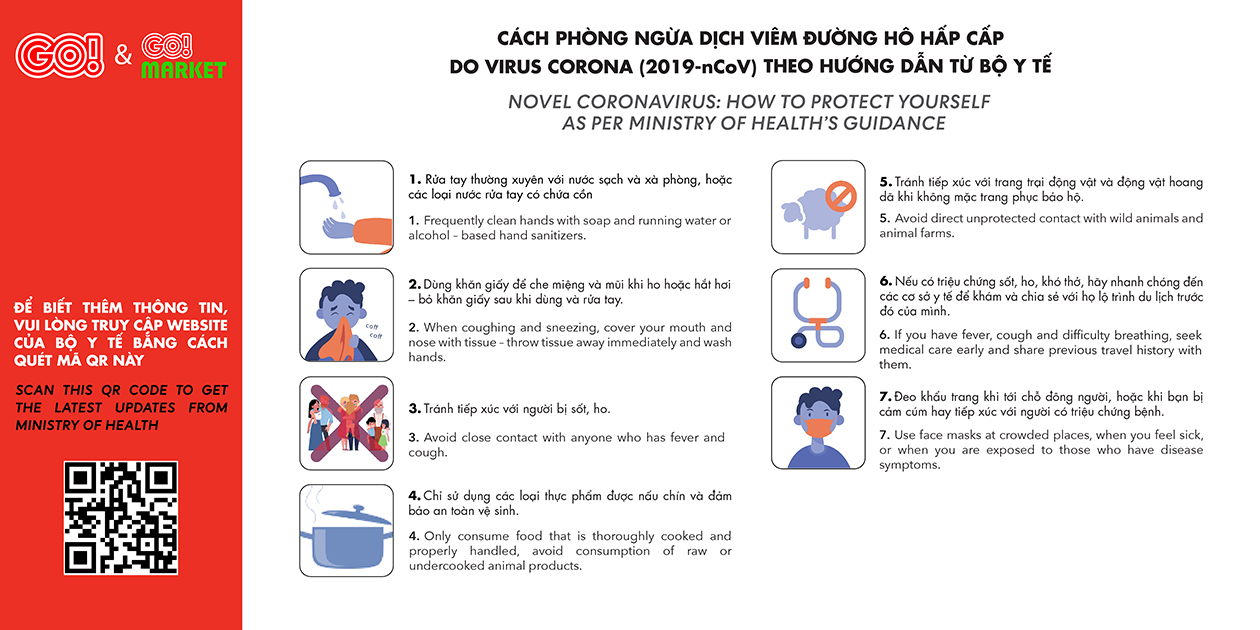 List of 7 things to do to prevent Corona virus as per ministry of health's guidance
Acute respiratory infections caused by Corona virus (2019-nCoV) are confusing for many people because of its dangers. Together with GO! protect your family when doing 7 simple things during the epidemic season.

1. Frequently clean hands with soap and running water or alcohol – based hand sanitizers.

2. When coughing and sneezing, cover your mouth and nose with tissue – throw tissue away immediately and wash hands.

3. Avoid close contact with anyone who has fever and cough.

4. Only consume food that is thoroughly cooked and properly handled, avoid consumption of raw or undercooked animal products.

5. Avoid direct unprotected contact with wild animals and animal farms.

6. If you have fever, cough and difficulty breathing, seek medical care early and share previous travel history with them.

7. Use face masks at crowded places, when you feel sick, or when you are exposed to those who have disease symptoms.

Note: Above are 7 things that the Ministry of Health recommends that everyone should do, let's protect the health of yourself and your family. People always remember to update the official information on the epidemic from WHO to have a firm mentality, to avoid unnecessary confusion.

GO! wishes you a lot of health, please share this article to many people around!
---
DON'T MISS IT!
100% updated promotions of GO! Vietnam will go straight to you via newsletter. Register your e-mail now to get all the promotions in hand.