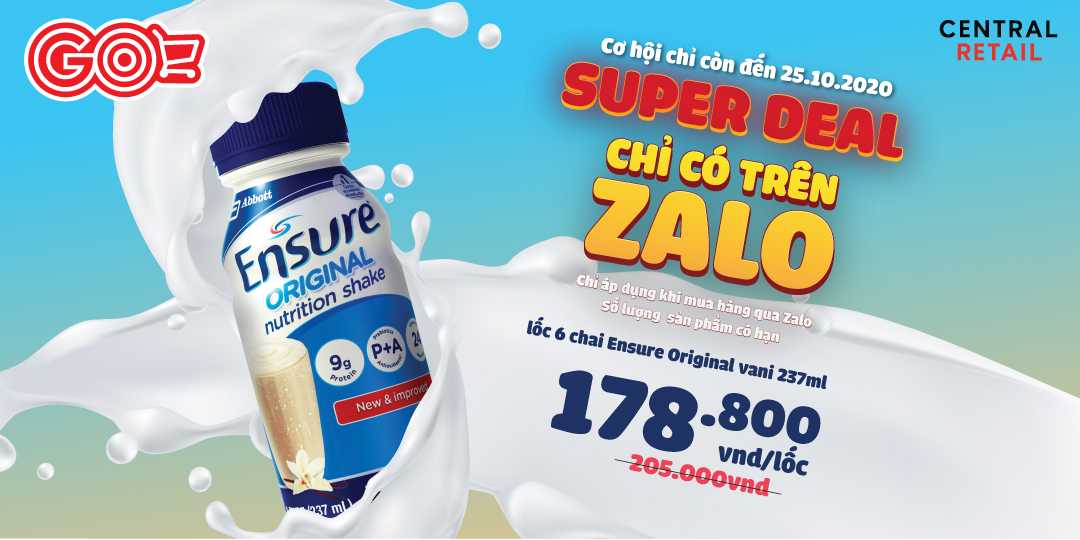 [UPDATE] ABBOTT ENSURE EXTEND 3 DAYS FOR EXCLUSIVE SUPER DEAL AT GO!
The private promotion by Abbott Vietnam in association with GO! from October 20 to October 22, 2020 has received great attention of customers. To meet the rising demand, GO! would like to extend the program until October 25, 2020:

A pack of 6 bottles Ensure Milk Liquid Vanilla Flavor (237ml) discounts to 178,800VND.

Buy health gift for your loved one at the best price. Search for the nearest GO! supermarket and press the Follow button to update our latest offers!!!

Note:
- The preferential price is only applicable when ordering through GO!'s Zalo channel.
- Each customer can only buy 1 product at a preferential price during the promotion period. From the second product onwards, the normal price is charged.
- The number of promotional products are limited, go to GO! stores right now if do not want to miss this promotion
*Promotional products will be filled everyday until the last day of promotion

Open the Zalo app and place your order in only three steps:
Step 1: Search for the nearest Big C store on Zalo and select Interested
Step 2: Press the "ORDER" button
Step 3: Refer to and order all products with attractive promotions
Specially, all orders within 10km are eligible for free shipping. Access your Zalo application today!

South:
GO Mỹ Tho
GO Trà Vinh
GO Bến Tre

Center:
GO Quảng Ngãi
GO Buôn Ma Thuột
---
DON'T MISS IT!
100% updated promotions of GO! Vietnam will go straight to you via newsletter. Register your e-mail now to get all the promotions in hand.